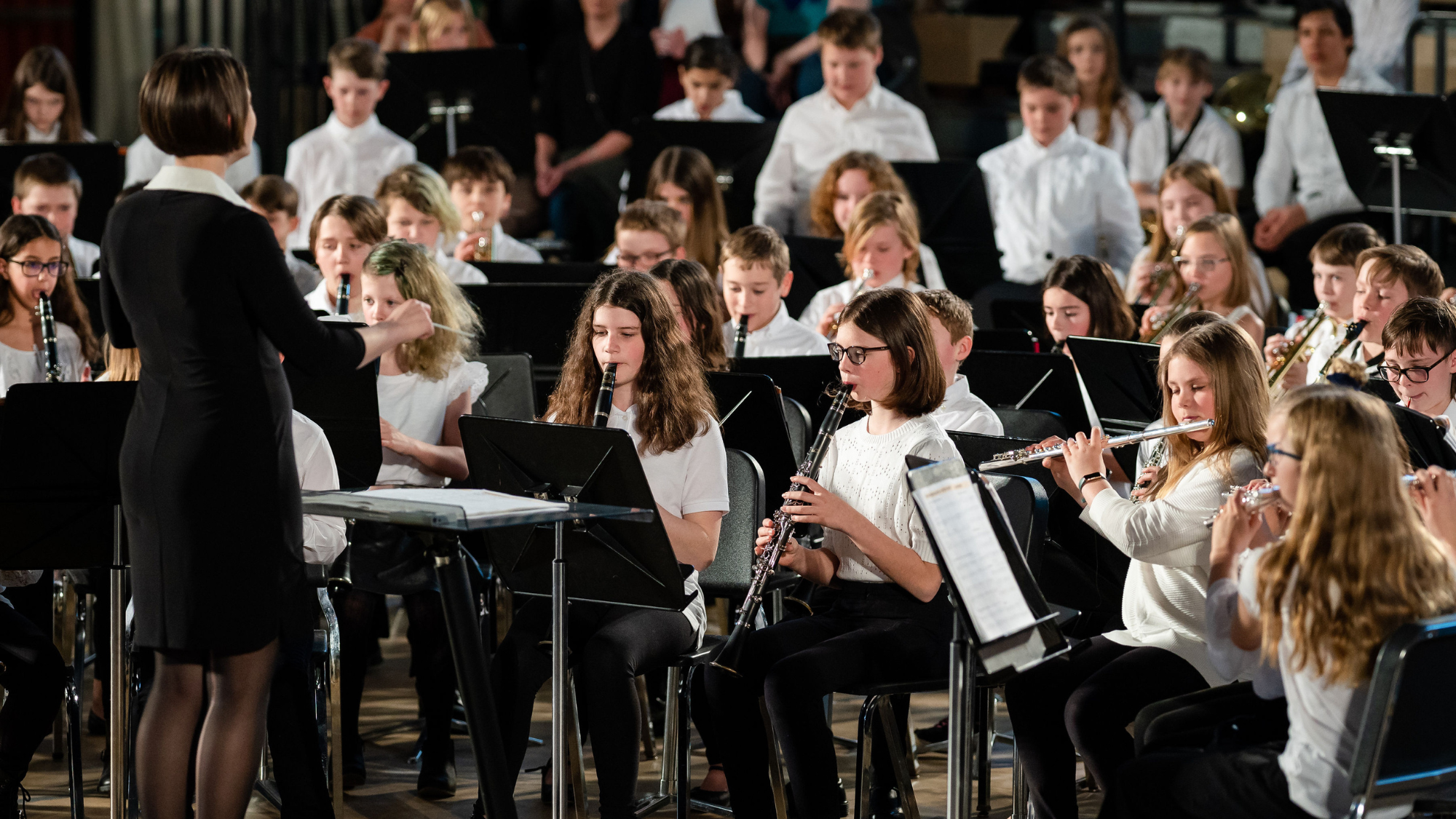 Getting Started in Dexter Bands
The purpose of this page is to give you access to basic information about beginning band and orchestra at Dexter Creekside Intermediate School. If you have need of further information, you can email your question to:
Band: Rachel Wilson – wilsonr@dexterschools.org
Orchestra: Alison Campbell – campbella1@dexterschools.org
Getting Fitted for an Instrument
Equipment/Materials Needed to Participate
Renting/Buying an Instrument
The Importance of Brand Name
Reputable Music Companies
Instrument Choices for Beginners
Frequently Asked Questions
Getting Fitted for an Instrument
In early to mid September, every Fifth Grade household will receive a phone contact by a qualified specialist from the Marshall Music Company to arrange an evening appointment at your convenience. On the day of your appointment, your child will be taken from their classroom for an instrument fitting. They should try a minimum of 2-3 instruments. At the evening appointment, the Marshall Music representative will review the results of the fitting and discuss his/her recommendations to you.Everyone should go through the fitting process, whether or not you buy from Marshall Music Company. The fittings are free and you are under no obligation to use Marshall Music to obtain an instrument.
Please keep in mind that a successful fitting does two things. First, it finds an instrument with which your child can be successful. Setting your child up for success means finding an instrument that is easy for them to produce a tone on, which makes practice enjoyable. It also produces a well-balanced band or orchestra. Forty flutes and three drummers is not a "band"; each of the instrument sections needs an appropriate number of players to make a a band or orchestra complete.
Equipment/Materials needed to participate in Band/Orchestra
Instrument:average cost for brand new instrument is $1200 (payment plans available)
Method Book:$10
Music Stand (recommended, aprx. $20)
Pencils
Daily Practice
Renting/Buying an Instrument
Rental: Many companies offer rental programs. Costs differ from company to company. Some programs may allow you to use rental fees towards the purchase of an instrument (see below). Some programs may give a discount if you pay for an entire year at once. Insurance may be included or may be an optional fee.
Rent-to-own: Many companies, including Marshall Music, also offer rent-to-own programs. Many rent-to-own programs will often include free products or services such as maintenance kits and free repairs. Early buy-out options are usually available.
Purchasing new retail: Most retail music stores carry at least a few band instruments. When purchasing new, you are assured of obtaining the brand you wish, in mint condition. Although it costs more up front to buy new, there will be fewer mechanical problems reducing any factors that might limit progress in learning to play.
Purchasing used retail: Many retail stores also sell used instruments. When purchasing a used instrument, ensure that it has been properly maintained, repaired, and sterilized before use. If possible, have someone test its playability before purchase.
Purchasing privately: There are many instruments available from private individuals. This can be the least expensive, but can also be the most risky way of obtaining an instrument. While individuals will often sell instruments at a lower price than a retail store, there is no guarantee that the instrument is playable. Expect that the less you pay for the instrument, the more you will need to pay in repairs and maintenance to keep it in playing condition.
The Importance of Brand Name
You get what you pay for. A better instrument will last longer and play better. A cheap, poorly made instrument may not even last a single year. Choosing a good brand name is as important when buying an instrument as it is when buying any valuable item. The brand name is usually a good indicator of overall quality, including how well the instrument will last over time, its ease of play, its tone quality, and the eventual resale value of the instrument. When obtaining an instrument, you may wish to consult the
Brand Comparison Chart
Quality
Brand Names
High (easy to play on, great instrument, retains value well, least maintenance required)
Yamaha, Selmer, Gemeinhardt, Bach, Buffet, Holton french horns.
Medium High (easy to play on, good student instrument, good value)
King, Armstrong, Conn, Holton, Artley, Benge.
Medium (acceptable student instruments, good value)
Besson, Bundy, Getzen, Leblanc, Blessing, Boosey & Hawkes, Reynolds, Olds
Not Recommended (require constant maintenance, difficult/impossible to repair, lose value quickly)
"No Name", First Act, Harmony, Monique, Amati, Wurlitzer, Lafayette, Heimer, Overstock.com
many instruments sold at large general retailers.
Reputable Music Companies
Marshall Music Company (Lansing) 1-800-221-1755 www.marshallmusic.com
Shar Music (Ann Arbor, Strings Only) 734-665-7885, www.sharmusic.com
The Woodwind & Brass Wind (South Bend, IN) 1-800-346-4448, www.wwbw.com
Music-Go-Round (Ann Arbor) 662-1080
Instrument Choices for Beginners
Band:
Flute
Oboe
Clarinet
Alto Saxophone
Cornet (trumpet)
French Horn
Trombone
Baritone
Percussion (both bells and snare drum)
Orchestra:
Frequently Asked Questions about Beginning Band & Orchestra
What factors are considered during the fitting process?
Each student's interest, physical make up, and aptitude are all factors that are considered when recommending an instrument. Of primary concern is the ease with which the student can produce a tone on the instrument. When a student has difficulty producing a sound on the instrument, he/she will not be motivated to practice.If the instrument is easy to play, practice becomes much more enjoyable
Are certain instruments "boy" or "girl" instruments?
No. We've had many girls play trombone, tuba, and string bass, and we've had many boys play flute, oboe, or viola.
Can students be in both band & orchestra?
No. We encourage students to concentrate on becoming an "expert" on one instrument. Band and orchestra classes are scheduled during the same period, making it impossible to enroll in both.
Can students be in both instrumental & vocal music?
Yes, and we encourage it! Instrumental students make better singers, and singers make better instrumental students. Our Creekside master schedule allows us this luxury, and we hope many students will take advantage of it.
Are students missing classroom instruction while in music?
No.
Can students participate in both music and Dexter Athletics?
Absolutely, and that includes all DHS Varsity Sports. The music teachers are great advocates of Dexter Athletics, (and several were high school athletes themselves). We work closely with all Dexter coaches and athletic directors. Each year, we have student musicians participating in almost every single sport, including varsity football.
What if I have an old, used instrument but don't know about its condition?
Bring it in to one of the band/orchestra teachers, and we'd be glad to look at it.
Where can I purchase instrumental supplies?
At any area music store.
Are private lessons available?
Private lessons are available after school at DHS. Considering that our band/orchestra classes can be quite large, private lessons are the best way to get one-on-one attention by an expert on your child's instrument. Further information is available from your child's band/orchestra teacher.