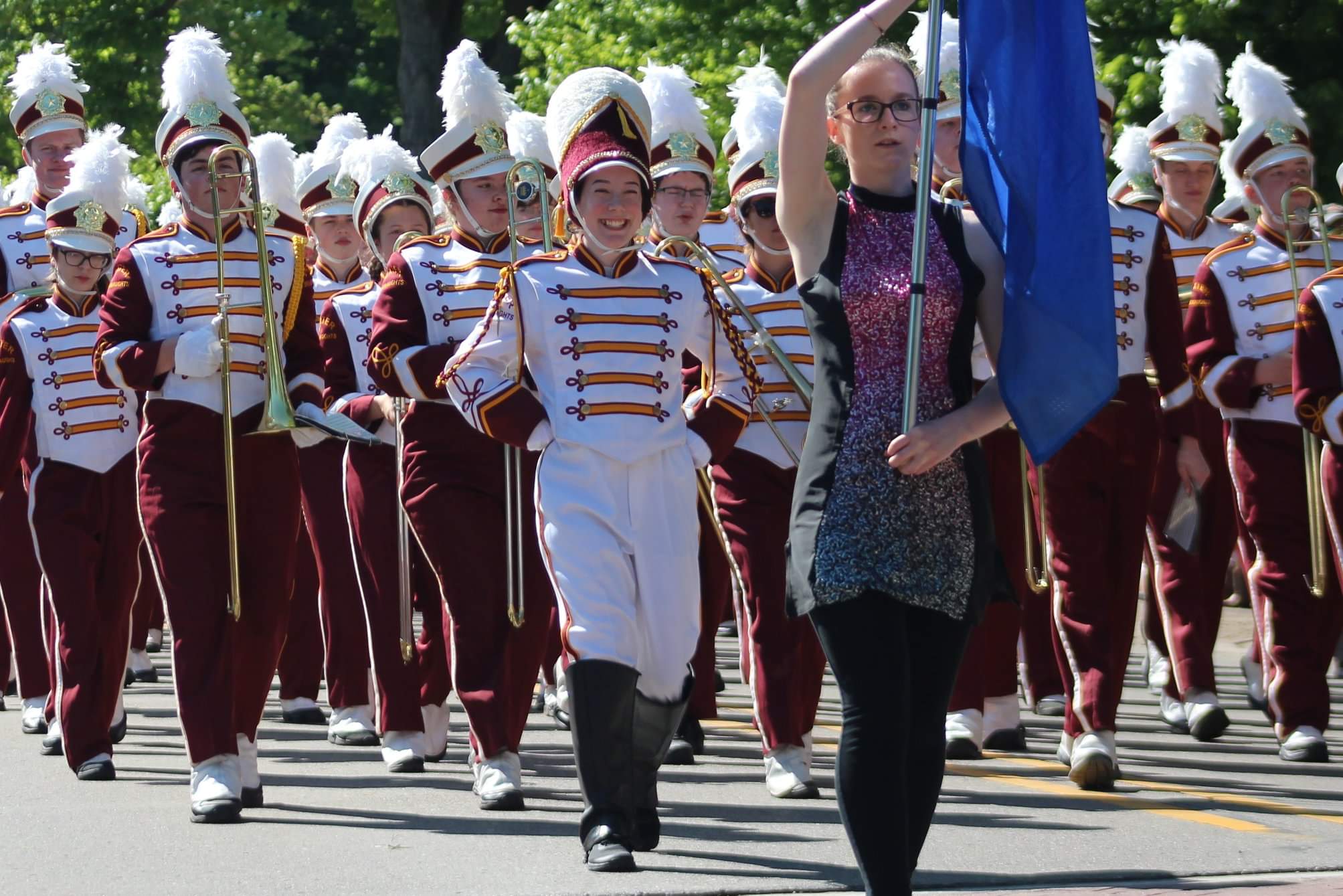 The Dexter Bands
The bands in the Dexter Community Schools have a long tradition of musical excellence. The directors and students take great pride in their craft and strive toward making the best music possible.
Beginning instruction starts in the fifth grade and classes meet twice per week in like-instrument groups.
In the sixth grade, instruction is increased to three times per week. Instrumentation is increased, allowing some students to start studying more advanced instruments like the bassoon and tuba.
In grades 7-12, classes meet daily, with a focus on performance activities such as Solo and Ensemble Festival, District and State Band Festival, and several other concerts throughout the year.
Seventh and Eighth graders participate in grade level bands at Mill Creek Middle School. Outgoing eighth graders are expected to possess the basic skills necessary to participate in the high school bands.
At DHS students participate in one of three bands based on the results of an audition each spring: Varsity Band, Concert Band, and Symphonic Band. These three outstanding groups combine to make up the Dreadnaught Marching Band. The Marching Band holds band camp at Hillsdale College each sumer, performs at all home football games, participates in several annual parades, and enters District 12 Marching Festival every October.
Meet the Directors
Ms. Grace Wolfe – Coming soon!
Contact Ms. Wolfe: 424-4240,  x.7120 or wolfeg@dexterschools.org
MR. ANDREW DAMMAN was hired in August 2010. Born and raised in Fowlerville, Michigan, Mr. Damman spent two years as a Director of Bands for the Santa Fe Public Schools in Santa Fe, New Mexico. There, he received First Division ratings for the district festival, qualifying for the State Band Festival and receiving Excellent Ratings. This was the first band to compete at the State Band Competition in the history of the Santa Fe Public Schools. Mr. Damman is the Director of Bands for the Dexter Mill Creek Middle School 7th& 8th grade bands, teaches 5th& 6th grade instrument classes, and assists with the Dreadnaught Marching Band and high school bands. Mr. Damman received the MA in music education from Michigan State University, East Lansing, and the BME from Grand Valley State University. Off the podium, Mr. Damman can also be found spending time with his wife and dog Tank the Mill Creek therapy dog, and pursuing new methods to improve a healthy and happy lifestyle.
Contact Mr. Damman: 424-4150, x.5126 or dammana@dexterschools.org
MRS. RACHEL WILSON has worked in Dexter since 2015. Prior to teaching in Dexter, Mrs. Wilson taught in Grass Lake. Mrs. Wilson teaches 5th grade Saxophone, French Horn, Trombone, and Baritone, and 6th grade Bassoon, Clarinet, Saxophone, Trombone, Baritone, and Tuba. She is also the assistant director at Mill Creek. Mrs. Wilson has a bachelor's degree in music education from the University of Michigan, and a master's degree in music education from Michigan State University. She is a loyal Michigan football and basketball fan. Mrs. Wilson lives in Ann Arbor with her husband Steve, son Archer, and dog Monty. In her free time she enjoys reading, doing triathlons, and playing video games.
Contact Mrs. Wilson: 734-434-4160, x.6221 or wilsonr@dexterschools.org